Welcome to Absolute Therapy
Natural Health Practitioners
Working with you to optimise Health & Happiness
We provide the calm & relaxing atmosphere of a Day Spa mixed with the professionalism of a Clinical Practice right in the heart of Wellington. We have a unique atmosphere that is a pleasure to visit and you can see in an instant how much our staff enjoy working here too.
All Absolute Therapys' Therapists hold a New Zealand recognised Diploma qualification or higher in their relevant field and have a wealth of knowledge and experience regarding body & mind dynamics.
Each treatment is customised to your needs. We focus on providing a range of professionals who prioritise results and customer satisfaction. Our holistic approach means it is not unusual for someone to experience a number of different services from a variety of Therapists while under the same roof. We listen to the issues, ask the right questions and offer relevant advice or referrals when necessary.
We are a busy central Wellington practice, we owe this to not only our professionalism and knowledge, but also because of the care we take of the people who visit us and the rewards they earn when using our Therapists.
Our Services currently include:
Clinical Hypnotherapy
Combo: Postural Assessment, Massage, Kinesio Taping
Double Massages
Dry Needling
Freedom with Food Counselling
Hot Stone Massage
Kinesio Taping (Add On Service)
Life Coaching with NLP
Naturopathy
Onsite Chair Massage (& Mobile Massage)
Postural Analysis
Pregnancy Massage
Relaxation Massage
Therapeutic Massage (& Sports Massage)
Call us now on 04) 801-8284
or email info@absolutetherapy.co.nz
We look forward to meeting you.
Iselde and the Absolute Therapy team.
Important Note
Unless otherwise stated, all promotions are only offered by the Absolute Therapy team, not the 'Associated Therapists' who rent space here.
Book a Massage Online

Gift Vouchers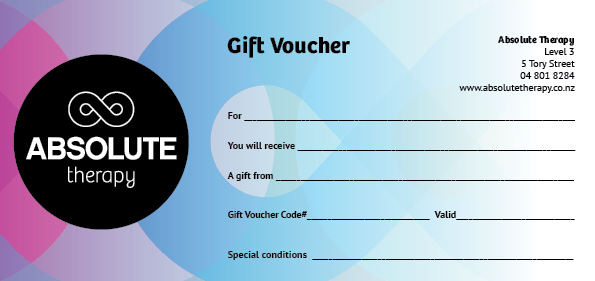 Like us on Facebook
Clinic News
Work Opportunities!
Currently seeking two qualified, experienced Beauty Therapists to compliment our awesome team.
Please contact Iselde for more info on info@absolutetherapy.co.nz
or
04) 801 82 84
Click our Newsboy to read this story and many more!